Riesling Clos Liebenberg 2018
bio
riche et structure
VIN BLANC
complexe
🚚 Livraison
Delivery within 4/5 working days, express by UPS, Chronopost or Fedex at home, on a relay point or by messaging
Sold by amazing wines
Riesling Clos Liebenberg 2018
Applepay, 3x payment at no cost Klarna and different payment methods available 💳
CB, Applepay, payment in 3 times Klarna, Transfer, Bancontact, CBC, Sfort, Giropay, IDEAL, EPS, Postpay, Maestro, American Express, Landscard, Belfius, Przlewy24 , ...
En savoir plus
Voir moins
House founded in 2003
One of the widest selections of the web of authors' wines and craftsmen
Features
Ce clos de 3 ha est exposé sud-est à l'extrémité de la colline du Grand-Cru Pfingstberg plutôt exposé est. Le Clos est donc plus précoce et offre des vins plus ronds et d'évolution plus rapide que ceux du Pfingstberg. Il est d'ailleurs intéressant de goûter le Riesling du Clos et du GC Pfingstberg en parallèle sur un même millésime (c'est possible avec le 2008 par exemple disponible pour le GC également). Le Clos commence à "pétroler" doucement alors que Pfingstberg reste encore sur des notes de fruits exotiques.
Cette zone est entièrement entourée de haies naturelles et de murets de pierres, ce qui crée un univers propice à la biodiversité. Un troupeau de moutons vient y pâturer chaque année depuis 2008.

"La belle maturité de vendanges donne naissance à des rieslings complexes qui dévoilent un gras et une amplitude sensationnels. Une race digne d'un Grand-Cru !"
LE PALMARÈS DES CLOS D'ALSACE

"Le Domaine Valentin ZUSSLIN est parmi les vingt parcelles de rêve sur 30 clos en Alsace ». »L'Alsace compte une trentaine de ces petites parcelles ceintes de murs, de haies ou de fossé, d'origine souvent monacale ou seigneuriale. A l'image du vignoble d'Alsace, ces clos représentent une mosaïque variée de terroirs, de cépages et de degrés de maturité. On y trouve les cépages nobles locaux, riesling, gewurztraminer, pinot gris et muscat, mais aussi du pinot noir, du sylvaner et même des complantations de plusieurs cépages. Les vignes des clos doivent exprimer la nature exceptionnelle des terroirs. Le riesling Clos Liebenberg 2007 du Domaine Valentin Zusslin parmi les 5 clos de renommée mondiale…"
RVF février 2010
A lire
http://www.gaultmillau.fr/vin/domaine-valentin-zusslin/riesling-clos-liebenberg-2008-blanc-78391/
La vue du clos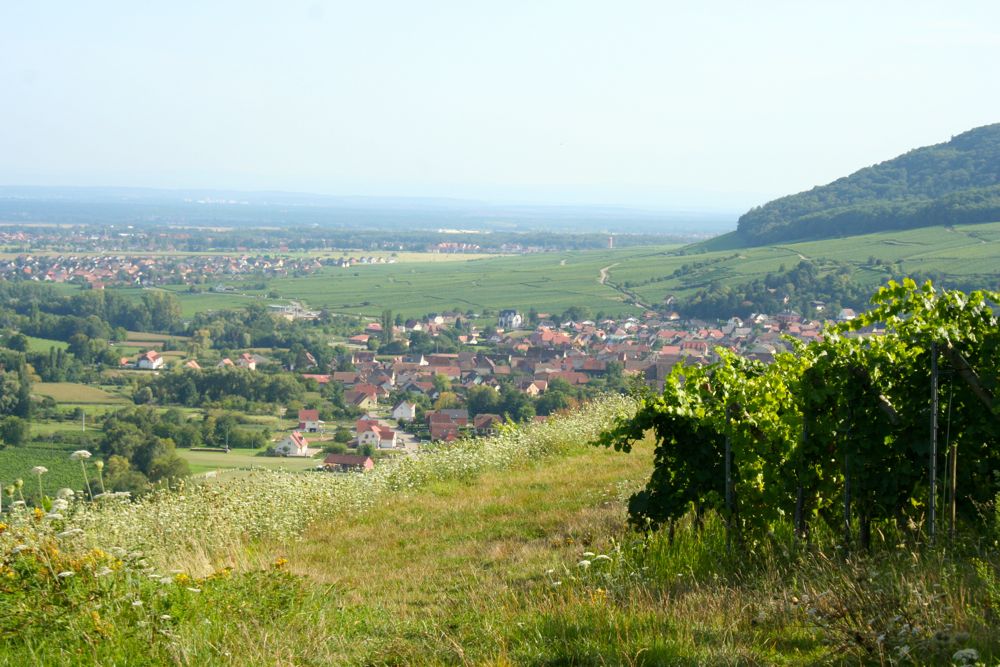 What is an author wine?
This can be so diverse depending on the personality of their sire, that it is easier to define what it is not. An author wine is anything but a standard, stereotypical wine, made to please as many people as possible. It is therefore rarely produced in millions of copies, copying itself from vintage in vintage.
An author wine is therefore a wine that does not look like that of the neighbor. Which from year to year will evolve according to the vagaries of the weather and the mood of the author - the two that can be linked. Because the author does not rely on market studies to carry out his boat. He makes his wine as he feels, as he likes, as he can, sometimes ... and too bad if he does not please everyone.
This is why author wines are sometimes classified as "table wine" or "France wine". Because the winemaker did not plan the authorized grape variety*, makes the assembly or vinification recommended in the name **. He is often a bit rebellious, our author. But that is why we like it! ... That said, author's wines are not systematically marginal: they are present in most of the appellations, and can be part of the elite of these this***. Because they are not content to have personality: they are good, in addition! With in general aDegree of TorchabilityVery high: we never tire of it at the end of the first sip.
As author's wines are not chaptalized, levied, hacked ... They can have very different profiles depending on the vintage. It is up to us (resellers and consumers) to accept them as they are, and to remain faithful to the producers, because they need us to continue their activity.
______________________________
* For example, theTouriga Nacionalin the Minervois, or theSyrahIn Forez ribs. They are crazy, these authors!
** Some winegrowers dare to produceSweety with Mourvèdre or oneNatural sparkling with Pineau d'Aunis
*** Like those of Jean-François Ganevat in the Jura or Zind-Humbercht in Alsace
Read more
Read less