Interview with Ayana Misawa from Grace Wine
mardi 03 octobre 2023
Interview carried out by the team
from Valade & Transandine
"Grace Wine is a star in the world of Japanese wine!
At the Decanter World Wine Awards, the largest wine competition in the world, it was the first area of ​​Japan to win the gold medal. And he managed to renew excellence for 6 consecutive years!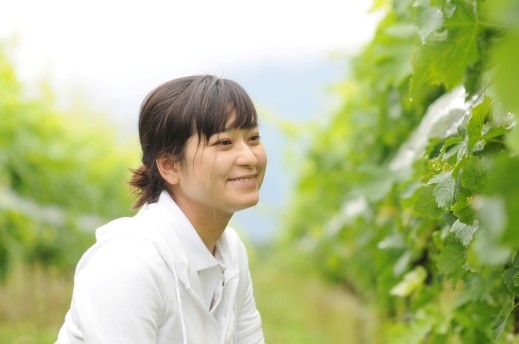 Can you tell us about your field?
Our vineyards are located in the Yamanashi IG, the cradle of wine production in Japan and the first wine region officially recognized by the Japanese government.
The Yamanashi valley is famous for its orchards (grapes, fishing, cherry, khaki, apple and yuzu) for a long time thanks to its terroir and its particular climate. It is surrounded by the three highest mountains in the country: Mount Fuji, Mont Kitadake and Mont Ainodake.
This brings a significant temperature difference between day and night. In addition Akeno, one of the vineyards in our field, benefits from the most important sunshine in Japan.
What is Grace Wine's story?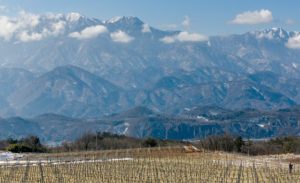 We are a 20 hectare family area founded in 1923 in the Yamanashi region.
That year, Kanto's great earthquake devastated a large part of Tokyo. It was a terrible disaster, more than 100,000 people died or disappeared. We, Yamanashi, are located 100 km from Tokyo. My ancestor developed the first vintage in the form of a tribute to all the people who were affected by this sad event. The Koshu grape was already there. It has been cultivated for over 1000 years in Japan!
Ayana, after studying in Bordeaux and Stellenbosch, then worked in Argentina, Chile, Australia or New Zealand, what is you passionate about Japanese viticulture?
I am part of the fifth generation to work for the family estate. I've been there since 2008. My mission was to improve the quality of Japanese wines, especially Koshu. And I always wanted this grape to be recognized worldwide as a grape that can produce great white wines. Koshu is for me intimately linked to my family and my hometown.
Above all, I like viticulture and I loved my different experiences in prestigious foreign wine regions.
Do you cultivate Koshu, what is the history and personality of this grape?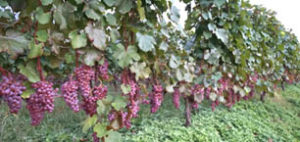 The Koshu grape is cultivated in Japan for over 1000 years. It is said that it arrived from the Caucasus region by China with the introduction of Buddhism. It was planted for its energy intake thanks to its natural sweetness.
His vinification in Japan began only around 1870. Until this date, Koshu had never been used to make wine, but it has always been "precious". For example it was used as a gift for shogun. Shogun is the samurai who was responsible for the administration of the feudal government.
I particularly like the personality of Koshu, including its delicacy, its purity and its authenticity. It symbolizes Japanese elegance ...
We offer the cuvées Hihiyama Vineyard and Akeno Misawa Vineyard. What are their particularities?
The two vineyards are located 40 km from each other, in the IG Yamanashi, and each of them offers completely different expressions in my eyes.
The Hadiyama vineyard is located at an altitude of 500 to 550 m in the village of Katsunuma, very traditional and located in the center of wines production in Japan. The wine is crunchy, pure and complex thanks to the clay and granite soils of the valley.
The Misawa vineyard is located at an altitude of 700 m in a mountainous area in the village of Akeno, known to have the longest hours of sunshine in Japan. The soil is volcanic. The Koshus of this vineyard are therefore quite unique: small bays, good sugar level, high content in malic acid. The yield is low in order to obtain concentrated fruit.
By favoring native yeasts and spontaneous malolactic fermentation, the Koshu Misawa vineyard reflects both the terroir and the character of the grape. I think this wine best demonstrates the finesse and richness of Koshu. "
You can find his wines in our shop: https://vins-etonnants.com/search?q=grace%20winery
Misawa Akeno Koshu 202089.00€
Grape variety: Koshu
Origin of the grapes: Misawa vineyard ・ Akeno, Yamanashi
Vinification Fermentation and breeding in stainless steel tank
Alcohol 12 % Flight
Tasting note: Limpid light yellow dress with a golden shade. Aromas of apple, pear and kiwi, but also fine herbs of fennel, thyme, jasmine with minerality reminiscent of shells. Sweet attack with a precise fine acidity, flavors of ripe fruit and minerality that are generously developing in the mouth. Long pleasant finish on smoke
Private Reserve Histiyama Koshu 2021 49.90€
Grape variety: Koshu
Origin of the grapes: Misawa vineyard ・ Akeno, Yamanashi
Vinification: Fermentation in stainless steel tanks at 15-18 ° C
Alcohol : 11.5% flight
Tasting note:Aerial and elegant, it evokes melon and fishing, with minerality from granitic soils. The remarkable freshness and elegance of Koshu are present, with lengthening, crunch, and a beautiful salivating acidity. Final and mineral fruits finish, reminiscent of a Chablis or an Albariño.